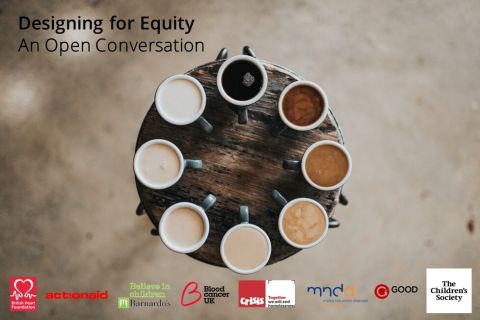 On 12th November we brought together leaders from across the sector for Good Innovation's first Designing for Equity round table. We created the round table as part of commitment to working with and supporting the sector to become more equitable organisations. (We include ourselves in this mix).
Our goal for the first session was to connect leaders across the sector and create an open forum for individuals to discuss challenges, share learnings and perspective from others, and co-create new solutions and approaches. A safe space to share ambition in terms of diversity, equity and inclusion, and be honest about the road ahead.
 For our first round table we were delighted to have organisations from across the sector represented, including: British Heart Foundation, Crisis, ActionAid, Blood Cancer UK, Barnardo's, MND Association, and The Children's Society. 
What we learned during our conversation was that, whilst each organisation is at a different point in their journey, we are unified by our ambition, and our challenges. Taking a leadership role to champion and drive diversity and inclusion agendas can be a lonely task; even when you have a mandate from the Board.
As we began to unravel the topic of diversity, equity and inclusion it demonstrated just how complex and convoluted it can be. There were so many layers and interdependencies - it can be all consuming and difficult to pinpoint just where to start. Added to this the tension between taking action versus time to learn and think before doing. 
As innovators we're passionate about co-creating solutions but, on reflection, the real value from our first round table was the ability to connect with others, to share what we've all tried, what's worked (and what hasn't), to listen and to learn. 
Key takeaways from the round table:
Ambition for Diversity, Equity and Inclusion:
A mission-driven rather than an 'add-on' initiative or strategy
A shared responsibility rather than just one person or team
Part of the culture and mindset rather than a box ticking activity
Challenges: 
Proving the value of D&I in your organisation
Having challenging conversations in the organisation
Embedding D&I as a priority across all teams
Handling potential fallouts from taking a stance. e.g. external criticism  - where is the red line and are we willing to cross it?
Being too quick & action-oriented - how do we slow things down and take it step-by-step?
 
In future sessions we want to focus on specific challenges and use the time to share perspective and learning, bring in experts to talk about their experience and co-create solutions together. We know we can't 'fix' it all at the same time, but rather, we want to focus on challenges one by one to create actionable solutions.
---
If you are interested in attending our future Designing for Equity round tables, please get in touch - DFE@Goodinnovation.co.uk. We look forward to bringing more people into the conversation and collaborating together to create more equitable organisations and sector.