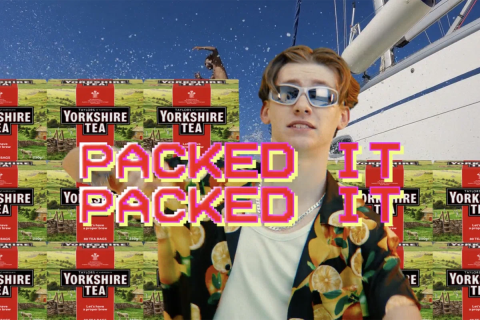 In an age where Gen Z spends 11 hours a day engaging in online content you'd think it would be easy to get your message across. But in a world where scrolling through social media feels more like speed-dating with content and our smartphones have become extensions of our hands, capturing our attention has become a challenge of Herculean proportions.
It takes something truly creative, different and disruptive to get us to pause the automatic content scroll and swipe. And even then, amidst our selective attention, the gorilla in the room might still go unnoticed. Which is why the Good Futures team is here to help, with six trends in disruptive campaigns that will help ensure your message is impossible to ignore.
What is real?
New AI-powered tools and services have unleashed a wave of creativity that is increasingly making us question 'what is real'? No longer constrained by the boundaries of what is possible IRL, campaign creatives are living their wildest fantasies.
Take Maybelline's 'outdoor' campaign earlier this year, which purported to show fake eyelashes and a mascara wand on tube trains and London buses.  When, in reality, this stunt was entirely generated by CGI. 

New Places & New Spaces
Don't be constrained by the boundaries of traditional space and place. New locations, environments and hubs are emerging in the digital universe. These places and experiences can unlock barriers of accessibility and inclusion. 

VR app MetaMosque, hopes to offer anyone the opportunity to take a virtual pilgrimage to some of holiest Islamic sites, including Al Haram in Mecca, and the Dome of the Rock in Jerusalem, enabling those who would have previously been physically or financially unable to complete a pilgrimage from participating.
Bridging the empathy gap
The 2023 Women's World Cup inspired some outstanding innovations, including Nike's new Leak Protection: Period Pro shorts, and the Lionesses switch from white to blue. But for us, the stand out campaign came from Orange, who used the power of deep-fakes for good.
The ad begins as a compelling highlights package of French football stars such as Kylian Mbappé and Antoine Griezmann performing expert pieces of skill and scoring wonder goals. But halfway through, the ad switches to reveal the actual people behind the moments of football magic – players from the women's French team. The purpose of the campaign? To challenge the negative attitudes towards women's sport still held by two-thirds of male football fans.
Finding moments of joy
If you've attended any of the Good Futures webinars this year, you've probably heard us go on and on and about joy. When confronted with the unrelenting doom spiral of climate, cost of living and a Conservative government, consumers are desperately searching for that little bit of dopamine to break the cycle.
Enter Yorkshire Tea, who have combined the meta-cringe Gen Z trend with a post-Covid desire for travel and experiences, all topped with a catchy tune. Pack Yer Bags follows a hapless, Yorkshire Tea-loving Brit on his holiday to Ibiza. I challenge anyone not to be humming 'packed it, packed it' after hearing this earworm.
Turning anxiety into action
Building on the post-lockdown desire for experiences, Mexican beer-brand Corona combined climate change with citizen science, to help take action on anxiety.
They asked consumers to take photos of Corona bottles on beaches, with the sea in the backdrop and to submit them to the company's website.  Using the fixed dimensions of a bottle of Corona beer for scale, the holiday snaps can provide valuable data for researchers working to understand and combat the negative impacts of climate change and other factors on coastal areas.

Lobbying for change
As we head towards 2024 and the looming elections in the UK and USA, your organisation may be agonising with how to safely navigate the Lobbying Act.

Accept to Enter was a Dutch campaign to lobby the government to enshrine LGBTQIA+ rights into the constitution, that carefully navigated the complexity of lobbying. The ingenious campaign played off the almost universal dislike of cookie pop-ups, by transforming them into a tool for protest. The plug-in tool was made freely available to brands to add it to their website and join the campaign. 

Looking for a bit more inspiration to fuel your innovation? Why not sign up to Good Futures.