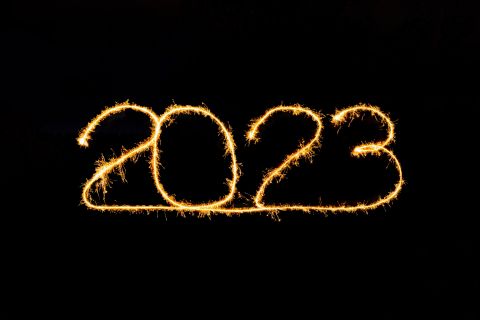 Cast your mind back 12 months, and it's unlikely that anyone would have predicted the rollercoaster of events that came to pass in 2022. War in Ukraine (particularly one that's turned into a war of attrition), a crypto winter (and SBF in custody), three British Prime Ministers and four Chancellors!
There are those who are touting that, in 2023, Disney will buy social gaming company Roblox, and that the value of Tesla will halve. Who knows?! I'm not the Oracle of Delphi and I'm not an economist. That's why I don't do predictions. I'm also not foolish enough to promise anything definite about the next 12 months. Apart from that it's going to be interesting.
So how can you prepare for 2023 when you don't have a crystal ball or a time machine? Rather than predictions about binary outcomes, let's look at trends. How our fundamental human needs are being shaped and answered by evolutions and revolutions in technology, society, culture and media. And how you, as innovators, strategists and fundraisers, can prepare, respond and get ahead of some of them.
These trends are not random guesses, but extrapolations from emergent data and behaviours we are already witnessing in consumers, businesses and supporters, combined with reflections from previous points in our collective histories that can add confirmation or challenge.
Given all of that…. Let's dive in with six + one trends for 2023.
1. MOMENTS OF HEDONISM
As the UK enters 2023 officially in a recession, and global efforts to agree meaningful action on climate change seem to be stalling, it could be easy to either give into the despair and pull the blanket over your head, or throw caution to the wind and press the f*** it button.
A portion of Gen Z (and some Millennials) have adopted the latter approach, embracing apocalypse budgeting and financial nihilism. For everyone else, searching for small moments of joy in the day to day will become a priority in 2023, to off-set the unrelenting economic, political and environmental doom.
TREND IN ACTION:
BRAND - In 2022 John Lewis unveiled their new brand promise, "For all life's moments". Tied to this will be the brand's new store format, "that lives into being there for all life's moments, not just the big moments, but the everyday moments as well".
PAYMENT - Apple has launched Pay Later in Apple Wallet, which lets customers split a purchase into four equal payments over six weeks, with no interest or fees to pay.
GAMING - In 2022, nearly 1 in 3 (31%) global consumers said they game as a self-care activity. And this activity is no longer something done in secret, but rather gamers wear this activity as a badge of honour.
SO WHAT - How might this play out in 2023?
Leverage the 'moments economy' and tap into consumer desire for moments of joy and escapism. Find celebration in the day to day, and position pleasure and escape as both beneficial for individual wellbeing, as well as supporting a good cause.
Looking at behaviours from previous UK recessions, we know that lotteries and luck-based gambling appear to be fairly recession resistant. Players engage partly for the small dopamine hit of the game, and partly for the financial possibility of winning big. The chance to win a substantial amount of money gives people hope that something more is possible. And frequently they will rationalise the cost of this gamble as supporting a good cause.
2. LIVING WITH PERMACRISIS
In 2022 we've bounced from one 'once in a lifetime' event, to another. Which makes the Collins Dictionary choice for word of the year no real surprise - Permacrisis. In 2023. individuals, businesses, charities and governments are searching for new ways to build resilience to weather the next inevitable storm. We all need to learn to live with permacrisis.
TREND IN ACTION:
LOCAL - London-based Crate to Plate are hoping to build local resilience from global supply chains by creating a network of urban hydroponic farms
SKILLS - Volkswagen is expanding funding for its coding schools into Mexico and Brazil as part of its strategy to recruit software-savvy employees.
PERSONAL - French law establishes a worker's right to disconnect. It requires companies with more than 50 employees to establish hours when staff should not send or answer emails.
SO WHAT - How might this play out in 2023?
Get ahead of the next 'once in a lifetime' event, by building resilience into your operations, strategy, marketing and services now. Invest in upskilling your teams and future proofing individuals to help them (and you) weather the changing skills economy.
The digital space is now so crowded and people are being actively encouraged to "digital detox". Be prepared for supporters putting down their devices by investing in traditional marketing channels that cut through the digital noise.
3. RISE OF RECOMMERCE
The cost of living crisis and recession, combined with climate fear and supply chain issues have focused consumers on repairing, reusing and recycling, rather than simply buying new. Welcome to the rise of recommerce – the purchase and sale of previously owned, new, or used products – across all sorts of industries, from fashion to furniture to consumer tech.
TREND IN ACTION:
COST OF LIVING - 81% of consumers have changed their shopping behaviour in response to financial concerns, according to a McKinsey survey published at the end of October
REUSE - Ikea announced Updatables, an app designed to extend the life of furniture by suggesting adaptations. Using AR, AI and machine learning technologies to have the pieces themselves "suggest" updates and improvements through additions of new IKEA parts.
REPAIR - Apple finally launched self-repair, so that individuals can purchase genuine Apple parts to repair their products, rather than being forced to either buy new, or pay costly repair fees.
SO WHAT - How might this play out in 2023?
For many shoppers, pre-used is becoming a statement and a status symbol that shows their commitment to lead a more environmentally responsible lifestyle and consume ethically. However, the fast fashion industry is still thriving. Shein was named the most popular fashion brand of 2022. The same consumer who showcases their recommerce purchase as a status symbol, will probably also purchase from fast fashion.
The hashtag CharityShopHaul has over 193 million views on TikTok, and this is backed up by the growth in charity shop sales in 2022, which have seen a 22% surge. Customers are looking for a unique bargain that gives them a moment of joy. (See our first trend on moments of hedonism). Go that one step further by offering services to help them customise, repurpose or repair their purchases.
4. DIGITAL SELF EXPRESSION
After government imposed lockdowns encouraged us all to prioritise public health and safety over our own individual needs, people are emerging post-pandemic looking for new ways to focus on themselves and express their individual identity. Augmented and virtual reality adds a new dimension to self-expression, and a new space to explore and experiment with identity.
TREND IN ACTION:
DATA - It's predicted that by 2025 more than a third of Gen Z will be shopping with augmented reality. [Source: Snap] Whilst 46% of US Gen Z survey respondents and 55% of millennials see their virtual identity as an extension of themselves in the physical world. [Source: McKinsey]
FASHION - In April 2022, Adidas Originals launched a personality based AI generated avatar creation platform. Users answer a series of questions relating to their style and personality to create a unique digital self that can be taken to other avatar platforms
GAMING - A 2022 update to Sims 4 enabled players to choose the sexual orientation of their Sims, by assigning a series of attraction parameters. In August, an additional update made it possible to add custom pronouns to Sims.
SO WHAT - How might this play out in 2023?
Always wondered what you'd look like with purple hair, or a tattoo, or dressed as Wednesday Adams? Virtual worlds and digital spaces offer people the agency to experiment with, and express their identity, with no-to-limited real world impact or cost.
It's important that representation isn't lost in new virtual spaces. Champion the conversation and the needs of your beneficiary communities. Help make virtual spaces safe for all to experiment, and designed with radical inclusion.
If you're interested in finding out more about the future of belonging, identity and inclusion, and you aren't yet a Good Futures subscriber, we've written a whole report on the topic. Get in touch to find out more.
5. POWER TO THE PEOPLE
A new era of fandom, powered by social platforms like TikTok, combined with the rise of niche communities, is forcing businesses to adapt and make room for the consumer on their boards, and as a core partner in innovation. Brands are harnessing the power of co-creation by inviting outside perspectives into their product development processes. This isn't just the token celebrity or influencer, as 'Creative Director' or brand ambassador. This is business taking a backseat in order to truly listen to your customers, whilst driving forward innovation and change.
TREND IN ACTION:
INNOVATION - In the UK, IKEA and H&M have partnered to create an 'ideas factory'—a joint project that invites creatives, designers and small-scale manufacturers to submit ideas across categories for development into marketable products.
CO-CREATION - NFT-backed tv shows like GenZeroes and Stoner Cats put some of the creative control back in the hands of the viewers, and offers an alternative funding model for creative content producers.
DEMOCRACY- Citizen Assemblies are springing up around Europe. They bring together groups of people to learn about and discuss an issue, in order to reach conclusions and recommendations.
SO WHAT - How might this play out in 2023?
Power to the people isn't performative. You really do need to listen and, most importantly, act on their evolving needs. Stay close to your supporters, especially during challenging financial times, so you can respond and support in real time, and not 6 months after the fact. These insights should also prepare you for changes in spending patterns and offer a way to ensure you're innovating on the right needs.
6. GENERATIVE AI
Generative AIs are now publicly accessible, with the launch of ChatGPT, DALLE-E 2 and GPT-4 expected in 2023. These aren't just image generation tools, or conversational agents. These AIs can mimic human characters. They can talk to us and tap into human needs, and connect. We're not talking about the distant future before these become your assistant, your therapist, your diagnostician, your creative partner and your friends. All in your pocket.
TREND IN ACTION:
BACK FROM THE DEAD - In October 2022, a podcast published by Dubai-based Play.ht featured Apple founder Steve Jobs, who died 11 years earlier, chatting with podcaster Joe Rogan. The first episode demonstrated synthetic speech services by using AI-generated voice clones of Rogan and Jobs, and the script for the show was composed using OpenAI's GPT-3 language model.
CREATIVITY - Early December 2022, and if you've been anywhere near social media you've probably seen people sharing AI generated images of themselves. Lensa renders a portfolio of stylised images, all generated using AI.
SENTIENCE? - In June this year, a Google engineer claimed that their LaMDA chatbot had achieved sentience. Google was quick to denounce this claim.
SO WHAT - How might this play out in 2023?
AI can already design, create, write, deliver and optimise your marketing campaigns. Soon it won't just be text to image, or text to text, but text to everything. A fully generated AI movie is probably no more than 5 years out. So what does this mean for the skills economy? What roles do you really need, and how can you redesign your marketing, legal, insight, and bid teams to maximise human value, whilst leveraging AI cost and time savings?
Thinking beyond 2023, there are questions to be asked about how these types of generative AI could radically transform our relationships. What could this mean for legacy and in mem fundraising if the person you're remembering can engage directly with the donor? It also offers massive opportunities to combat loneliness across the generations, and triage people in need directly to the service they require.
This is just the start of the AI revolution. It's not perfect right now (there are some serious problems with race and gender bias), but expect to hear a lot more about this in 2023. Change is coming. And it's going to be fast.
And Finally…. A bonus trend for the years to come.
BRAIN MACHINE INTERFACES
Elon Musk announced that Neuralink is around six months away from starting human trials of its N1 brain implant. In November Musk played a video that showed a monkey using the implant to 'telepathically type' — using his mind to control an on-screen cursor and type the words 'Welcome to Show and Tell' by directing his attention to highlighted letters.
Neuralink isn't the first to explore this technology. Synchron began human trials in Australia in 2020 and have received FDA approval to expand their trial to the US.
This isn't a 2023 trend, or even 2033 trend, and it may feel like science fiction. But the reality is that these technologies will be transformative for people who are paralysed or unable to communicate, and may eventually revolutionise the way all of us interact with technology. We're on the edge of the fifth industrial revolution - where mind meets machine, and I, for one, am equally exhilarated and terrified by the prospect.
Want to talk more about what 2023 could hold? Get in touch for a coffee with Daisy - she loves a chat!