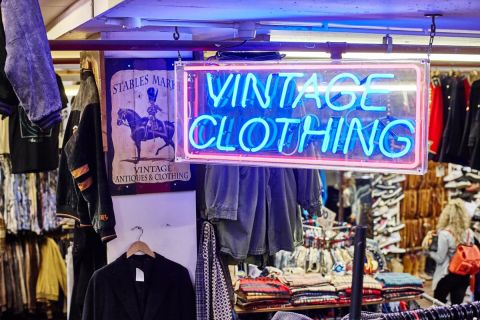 2022 was a year categorised by massive swings between highs and lows for charity retail. At the start of the year, things were looking up. Footfall to highstreet shopping locations was quickly rising back to near pre-pandemic levels. The interest in thrifting and charity shop hauls was continuing to surge in popularity. 
By autumn, the post-COVID retail recovery had slowed. Cost of living bit hard. And yet, against this backdrop, charity shops thrived.
But with the rising popularity of thrifting, we've also seen some loyal customers and those most in need potentially getting priced out of the market. 
We also saw the increasing rise of the eco-shopping, the climate-conscious customers who are drawn to the charity shop's sustainable purchasing choices (but will turn around and snag the new trendy top they wanted from Shein). We saw the rise of Buy Now, Pay Later services, a boom in social commerce, and a search for moments of joy to combat the looming recession. 
So where do we go from here? Let's take a closer look at the retail trends from 2022, and consider how you can prepare, respond and get ahead of some of them. 
Given all that, let's dive in with seven upcoming trends for retail.
SUSTAINABLE RETAIL
Sustainability is no longer a 'nice to have' or added-value label for retail. It's fundamental. Consumers are looking beyond the product, to assess the green credentials of both suppliers and retailers. Think everything from materials and point of origins, to microplastics, modern slavery, and water pollution. And they're voting with their wallets. A 2021 YouGov survey found that 20% of Brits avoided purchasing items from brands due to environmental concerns. 
Greenwashing is being called out across the board, with demands for increased transparency getting louder. Instead of purpose-washed initiatives built for sustainability credits, consumers are looking for genuine (and accessible) change that extends across every aspect of an organisation.
Trend in Action: Aldi
Aldi launched a brand new eco concept store, featuring sustainable materials, zero-packaging products, and unit for hard-to-recycle items. The kicker? Shop prices were slashed to 5% under standard Aldi prices. Sustainability made easy for the customer. 

So What?
Make it easy for your customers to take action. 

Be transparent. 

Leverage your expertise to help other businesses do the same. 
---
Thrifted Fashion
Thrifted fashion is booming. The past year has seen the height of vintage trendiness, the comeback of the charity shop, and the start of luxury brands dipping their toes into resale. 
As consumers are craving more and more sustainable retail, with a cost of living crisis pushing a turn to cheaper alternatives, and a flood of thrifting haul videos on TikTok, the secondhand market is about to go mainstream. While that's great news for charity shops, it also means competition for second hand retail market share is about to get a lot fiercer. 
Trend in Action: Charity Super.Mkt:
A popup charity department store has recently opened in Brent Cross, bringing together ten charity retailers. It's a great response to the rising demand for secondhand clothes, especially among millennials and Gen Z. And, moreover, we're seeing charities collaborate and innovate in response to increased market competition. 
So What?
How can you use stories to drive repeat purchase and connect customers to your cause?

With a predicted 2m more Brits looking to volunteer in 2023, rethink your volunteering strategy. 

Curate your product offering to your audience. 
---
MOMENTS OF HEDONISM
The past three years haven't been the easiest, and the road ahead is still uncertain. We're all becoming used to living in permacrisis. For most people, this means that searching for small moments of joy in the day to day will become a priority in 2023, to off-set the unrelenting economic, political, and environmental doom. 
The experience economy is booming, people are spending more on self care or the small everyday luxuries that make them smile, and rave culture is making a comeback!
Trend in action: McDonalds
In 2022, McDonald's announced they'd be launching Adult Happy Meals (in collaboration with streetwear brand Cactus Plant Flea Market), to serve small moments of dopamine to their grownup customers. After all, in times of permacrisis, there's nothing better than being reminded of the simplistic joy of being a child again. The Happy Meals sold out countrywide within a week, with some of the toys ending up on eBay for over $300,000. 
So what?
Tap into hedonism; consider how to sell small moments of joy. 

Find the intersection of hedonism and sustainability to help lessen the guilt of consumption. 
---
SOCIAL COMMERCE
E-commerce has come of age, and TikTok is supercharging a new era of online shopping. The ability to see something served in a post and click straight through to buy it immediately is making shopping easier than ever before. 
The integrated Shop feature streamlines the customer experience, and in combination with its algorithmic ability to serve up exactly what's on trend in the most aesthetically pleasing way possible; expect social media to become increasingly shoppable this coming year. 
Trend in Action: YouTube
YouTube has officially broken into the livestream shop space, with a Christmas themed livestream shopping event featuring some of its biggest creators. They're hoping that they can entice dedicated live shopping creators to their platform, and introduce a large section of their users to a new way of social commerce. 
So What?
Be social. Showcase your shop online. 

Consider using BookTok to find curation inspiration for your secondhand book stock. 
---
BUY NOW, PAY LATER
If you live in a UK city, you'll probably have seen the bright pink billboards advertising the slogan: Buy Now, Pay Later, with Klarna. 
Despite post-2008 fears of personal debt, BNPL has convinced a whole new generation to get into credit. Riding the wave of the fast fashion boom, a cost of living crisis pinching our walleters, and a financially-illiterate generation of shoppers, BNPL services are growing and expanding to new sectors in 2023. Prepare for the rise of Donate Now, Pay Later, as well as keeping an eye out for potential legislation surrounding the product. 
Trend in Action: B Generous
Fintech-for-good company B Generous has launched a Donate Now, Pay Later product. The product holds the idea that people are, even through a recession, inherently generous. They just need a helping hand. It may be a new charity use case for BNPL services. 
So what?
Consider what's driving BNPL services; how are you supporting the people who are turning to BNPL due to the cost of living crisis?

How can you support and educate your shoppers on financial literacy? 
---
BRICK AND MORTAR
Brick and mortar stores have not had the best few years - competing with e-retailers, soaring rent prices and oversaturated markets. Fresh off the back of a pandemic that forced many to close their doors for the better part of two years, those who were hoping for foot traffic in the high street in 2022 were disappointed. 
But the brick and mortar store is very much still alive. At least, the brick and mortar store that is willing to invest in crafting the perfect experience for its customers is still kicking. Experiential stores that also manage to match the efficiency of e-retailers will keep customers coming back in 2023. 

Trend in Action: Reformation
Sustainable fashion retailer Reformation has brought its tech concept stores to the UK. They feature a limited catalogue on display, with the full collection being accessible through screens on the walls and in fitting rooms. They're tapping into the need for a more streamlined shopping experience. Bonus points for showing the carbon footprint of every product on the screens. 
So What?
Consider building in additional services and support functions to your stores. 

Think about how you could streamline your customer journey to match e-commerce efficiency. 

How are you making your stores experiential?
---
GEN ALPHA
By 2025, there will be two billion Generation Alpha. Classified as those born between 2010 and 2026, this new generation is going to be driving retail trends for a significant chunk of the near-future. Right now, it's mostly their parents - a new generation of millennial parents, with the occasional Gen Z parent mixed in - who control the purse strings, but expect this to change quicker than anticipated. Nearly half of kids between ages six and sixteen already have access to an Amazon Prime account. 
So what do we expect from Generation Alpha? In the near future, a lot of alignment with millennial buying behaviours (think gender neutral childrens' retail, a demand for sustainability and accessibility), and expect a heavy emphasis on digitisation and social commerce from the first fully native e-generation. 

Trend in Action: Rimmel
Tom Daley is Rimmel's new brand ambassador, the first man ever to step into the role. The brand is looking to cater to a younger generation that's increasingly less concerned with the gender binary, by taking steps towards better representation of what a makeup-wearer looks like in today's day and age. 
So What?
Rethink your stock, merchandising and models to be more gender neutral. 

Don't discount Gen Alpha. They'll be your customers sooner than you expect. 

Want to get your hands on the full report? Contact Daisy to find out more about signing up to Good Futures, our trends and foresight service.