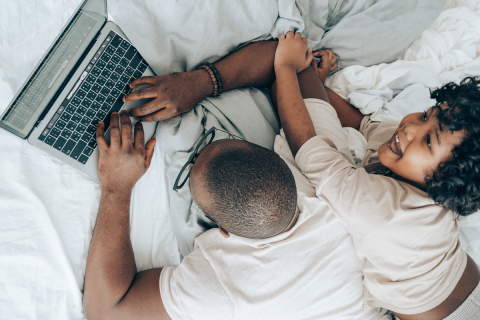 This week the Good Futures team launched the latest in the 2023 series of horizon scans. The October report was all about Millennial parents; their finances, families and foibles. This blog is a taster of some of the headlines from the report. Now, onto the research.
When you're thinking about your target demographic audiences, Millennials, and Millennial parents in particular, are probably quite high on the list, and with good reason.They're one of the most charitable generations out there, representing the highest proportion of weekly donors.

Born between 1981 and 1996, this audience makes up about a quarter of the UK population of 16.2 million, and about 56% of them are parents. They're likely to be well into their career, life-planning, and family-planning (or actively planning not to start a family). 
Like their Boomer parents before them, Millennials are reshaping the modern definition of family. From choosing to start their families later (or not at all), to choosing not to get married before kids, embracing more diverse family structures that aren't bound by heteronormative ideals, and challenging gender roles within their relationships - modern family looks different to how it looked even a decade ago. 

From a charity perspective, although this generation has been committed givers and generous donors in the past, their financial struggles (compounded by the cost of living crisis) show no sign of letting up. It's by no means certain that Millennials will be able to continue to support in the way they currently do - no matter how much they may want to.

With all this in mind, let's dive into a few of the takeaways from the horizon scan.
Changing Gender Dynamics
Gender roles within families are shifting. A larger share of children are parented by LGBTQIA+ parents, where traditional ideals of heterosexual, male-female parenthood no longer apply. In fact, LGBTQIA+ couples are more likely to split household responsibilities and chores equally than their heterosexual counterparts to begin with. 
Within heterosexual families, gender roles are also changing. More men are taking on the responsibility of the caregiver, with remote work opportunities lending a hand to greater equality in childcare. But Millennial mums are ultimately still more likely to put their career on hold or give less attention to work to focus on their kids than dads. 
With the infrastructure of leave still promoting the idea that women should bear the brunt of childcare, particularly after birth, and the high barriers for fathers to choose to stay at home instead, achieving equality for Millennial parents in the workplace continues to be difficult. 
So What:

The definition of family has changed, but has your organisation kept pace? Are you still defining family using old models, language and stereotypes? 
And is your parental leave policy equal across genders? What about your other parental policies, like the adoption leave policy?
The Rise of the DINK
Around 44% of Millennials don't have children, for a wide variety of reasons. The result? The rise of the DINK (Double Income No Kids) households. These Millennials may choose to spend more of their discretionary income on themselves, or potentially charity, on achieving the dream lifestyles and experiences that may seem out of reach for the pinched wallets of parents in the current economic climate. 
Beyond simply being an interesting demographic given their higher disposable incomes, we're also expecting them to drive the growth of the legacy market as they grow into old age. Although typically too young to be considered a key audience for legacy campaigns or engagement, this demographic could present a new opportunity to invest in sooner rather than later. 
So What:
With the rise of the childless Millennial, how are you engaging this growing demographic long-term? In particular, be aware of the untapped potential of this audience for legacy donations, lifetime giving and a group on the lookout for new models of community and support as they age.
Millennials & The Environment

71% of Millennials believe climate change is the biggest long-term challenge facing their generation. As the generation most likely to experience feelings of fear, guilt and outrage about the climate crisis, these anxieties bleed through in their decision making. From family planning to home improvements, what they eat and wear, career and workplace choices, to, yes, charity donations. Not only are they prioritising donations to environmental charities, they also place high value on making sure that all of their giving takes environmental interests, and social equity and diversity, into consideration. For parents in particular, it comes down to securing a good future for their kids. Essentially, environmental concerns factor into all areas of engagement, regardless of whether it's in your mission or not. 

So What:
Millennials see the environment as everyone's problem. Regardless of your core mission, have you ensured that your operations are climate-friendly, and are you putting concrete and actionable sustainability initiatives in place? And how can you tap into this with your retail offer, by emphasising your eco-friendly and ethical products?


Millennial Giving
Good news: Millennials are committed donors. They stand out as the largest proportion of weekly charity donors, and those who give to the widest range of charities, with 59% of them supporting two or more causes. Unsurprisingly, they have a strong affinity for donating online. To engage Millennial donors, it's worth considering whether your website is fully functional, easy to navigate, and aesthetically pleasing.

But given the financial strains and concerns faced by Millennials, they're still the demographic most likely to cut down on donations over the next few years as the cost of living crisis continues to squeeze incomes. So how do we keep engaging them? Are our current revenue models still the most effective way to do so? 
So What:
With Millennials' strong preference for donating online, make sure your website is in top condition, from functionality, to accessibility, to its mobile version and aesthetics. 
And with some Millennials feeling like they'll have to cut down on donations due to the cost of living crisis, how can you keep these supporters warm through other engagement tools and strategies?

Generation Rent
Millennials have often been in the news as 'Generation Rent': the generation that may never own their own home. About a third of Millennials are unlikely to ever own their own home, and about half of them will rent at least well into their forties. Millennials tend to have lived with their parents longer, spent more on rent throughout their lifetimes, and more regularly live in shared accommodation with friends and acquaintances. On top of that, renting households are the most likely to be in problem debt and have lower financial resilience.

But it's not all bad news. Millennial homeowners outnumber Millennial renters and Millennials living with their parents for the first time ever, as of 2023. And, as inheritances and gifts begin to come their way, their futures may become a lot sunnier. 

So What:
For a generation who may never own bricks and mortar, their later years are going to look very different. From retiring well into their 70s (or even 80), to communal, shared cost, living in their twilight years. Change your language around legacies (away from hard offline assets). Be part of the conversation about shared housing that supports intergenerational living. Support them to live now, not later. 
Millennial Parents Online
Social media is now one of the most prevalent information hubs out there. Millennial parents report an average of 4.25 hours on social media every day, compared to the 3.8 hours their non-parenting counterparts spend online. And over a third of mothers and half of fathers state that they use social media daily for parenting advice. The main appeal here is the advice of their peers. As a generation that's more trusting of user-generated content, particularly if it comes from other Millennials, the value of social media is in being able to see what everyone else is doing. 

And yet, sometimes these trusted sources have a distinctly negative impact on Millennial parents. With all this information constantly at our fingertips, they're constantly exposed to everyone from experts to influencers to peers discussing all things childcare. And a lot of the time, it can feel like parents who aren't living up to these (near-impossible) ideals are failing at parenting. 
So What:
We know that Millennials are more trusting of User-Generated content than anything else. Leverage the UGC created by your supporters, both on social media and elsewhere, to drive more authentic conversations and engagement.

And with so many of the representations of parenthood that we see online looking seemingly perfect, be mindful of how you represent this life-stage yourself. Make sure your communications depict realistic representations of parenthood. 
These headlines are only a glimpse of what's covered in the full report, which also dives into: co-gaming, the experience economy, working parents, the cost of childcare, intergenerational wealth transfers, spending, wellness, how Millennial parenting is influencing their Gen Alpha kids, and much, much more. 

If you want to get your hands on the full version, please contact Daisy to find out more about subscribing to Good Futures, our trends and foresight service.