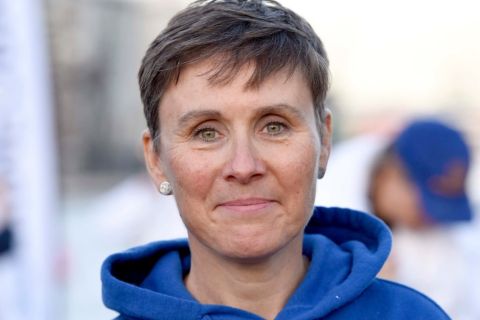 Can you explain the background to the project?
This is the third strategy I've worked on for The MND Association. The one I inherited in 2012 was doorstop-sized and dense. I've joked to people that when I was preparing for my job interview, in spite of being very keen to get the job, it was so long I struggled to finish it. 
When I got the chance to lead a strategy, I was determined it was going to be different – more accessible, more magazine-like, in easier language. I think we achieved that, and then we did another one in 2017, which was a progression from the first. But I remember being a bit disappointed that we hadn't done something a bit more ambitious, more radical. 
When it came to this strategy, I was worried we were going to get more of the same. Great as the team is, the directors and I had been in our roles for quite a few years, and I knew we needed a fresh approach and to be able to look at the organisation differently. I thought we'd benefit from help in meeting our ambition to make the next strategy transformational. 
For the past 40 years, we've been the only MND charity of any size in England, Wales and Northern Ireland. Now we've been joined by several other charities in the field. Rather than being defensive or competitive, I wanted to generate innovative ideas, a different approach and a new perspective. I wanted us to be really clear about how we were going to fit into this new world, what our role was and wasn't, how we'd work in partnership, what we might need to leave behind, and how we needed to be, not only for our organisation but more importantly for the benefit of the community. 
What were the benefits of using innovation methodologies to develop a strategy? 
Kevin and the team brought very different ways of thinking, and ways of enabling our thinking. We got a structure and mechanism for approaching the work which we would have struggled to resource ourselves. We got challenged on existing assumptions, and had ideas brought in from other organisations, not just in the charity sector.
We got ideas, innovation, challenge, and great people putting in a lot of effort to help us.
Good Innovation has brought in fresh perspectives and drive that have added enormous value to our future work. And now we've got something that I feel really, really proud of. 
How did you go about defining your cause community and who to talk to?
Like most biggish, complex organisations, we've got many different sorts of stakeholders. We did an exercise that helped us to identify categories of people, then we asked people in the organisation – people closer to the front line than me or the directors – to put names forward in each category. And we tried to choose people who were not the usual contacts. 
We did 36 hours of interviews and made sure the people we interviewed represented a good spread across the categories – that we weren't just listening to the people that we usually listen to. 
What worked well about the insight-led, cause-community approach? What was challenging?
The team distilled from the interviews some really important insights and shared them with us. The section summarising our key strengths was really encouraging and motivating to see. 
We're not a household name charity, we're an 18-million-pound, 180-people organisation based in Northampton, quite modest and self-effacing, getting on with what needs doing and moving onto the next thing. To read what people felt about us, and to hear the words they used - "best in class", "trusted" - was really heartening. 
Some of the insights were quite challenging, about being bolder, more impatient, and not taking so long to do everything. As we've become a bigger organisation, by necessity we've created more complex governance than we used to have. People with MND don't have any time, they need us to get on with things, to be braver and bolder on their behalf. 
What were you expecting to learn from the insights? Were there any surprises? 
One of the most remarkable insights was about hope. People fed back that an important part of our role is to offer the hope of a treatment one day, and a cure. It made my hair stand on end to hear it. I'd never heard it directly from voices in our cause community in that way. That made us really sit up and think about what we need to do. We also heard people's views about the importance of even more research into new treatments. Of course, we knew that, but again, hearing it is really important. 
Some feedback was about things it's really difficult for us to control, for example people wanting really high-quality, personalised care from the NHS, and an early diagnosis. We can try and influence those things, but we can't control them, so we looked at how we could create a strategy around what we can do.
How will The MND Association go about putting the strategy into practice?
I'm really delighted with where we've got to as a result of this work. I love it. It's so different from what we've had before. It's so right, so contemporary, so ambitious and hopeful for people affected by MND, now and in the future.
We're in the process of developing a series of commitments to the MND community that we're really looking forward to sharing. We'll be able to publish the strategy in full when it's finalised, towards the end of this year.
Working on delivering these commitments will involve much more emphasis on cross-team working and collaboration, continuing our journey of moving away from stovepipe management of people and work.
How have you approached getting the trustees behind the new strategy?
When we first took the insights to the trustees, we got quite a lot of pushback. There were questions and challenges to the approach. But since then, we've moved on to the commitments, and I took that work to the board recently, and they loved it. 
How will you go about getting supporters excited about the strategy?
We really want to involve our community in working with us to plan how we deliver our new strategy. Once the strategy is signed off by the board in September, we'll have a proper launch and share it across all our channels - our blog, our website and social media. 
What would you advise other CEOs working on a strategy?
Unless you're sure you've got the internal resources to help you do this work in the way you want, don't be afraid of looking outside your organisation. Yes, of course it costs money, and money is very hard earned in the charitable sector, especially at the moment. But now we've got so much better a strategy with which to serve our community in the future. 
Because we've listened to the needs of the community, and the strategy responds directly to those needs, we'll be able to strengthen our position in the community and ensure that our supporters stay with us because they're inspired by our work and what we're trying to achieve together. It's a way of securing our future position in the cause community. 
I suspect if we'd continued down the same traditional path, there may have been a risk to our long-term support. Supporters may have looked around to other charities and thought what they're saying resonates better with me. This has been a way of trying to ensure that we're as relevant to the community in the future as we have been in the past.