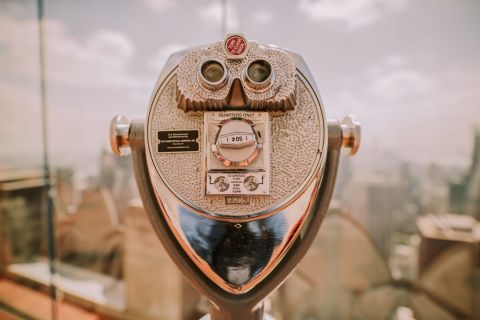 Tell us about Good Futures…
Good Futures is a subscription from Good Innovation, giving you foresight of emerging trends, cultural changes and developments in tech. 

We have a quarterly theme, called the Paradigm Shift. Each week we explore trends linking into that theme in Good Futures Weekly, a newsletter with cultural highlights to inspire you and a deep dive into a trend. It all culminates in a report at the end of the quarter. 

We also have an exciting quarterly event: our Inspiration Safari. It's a one-day, in-person tour, where you can connect with your peers, and hear from inspiring businesses and thought leaders who are living and breathing the paradigm shift. A few weeks later, we bring everyone back for the Reunion, a half-day workshop turning inspiration into action.

When and where was the first Safari? Who took part?
Our first Safari on 26 July had to be virtual, despite our best efforts. We welcomed organisations including RNLI, WaterAid, British Red Cross, Crisis, Independent Age, RNIB, and WWF. 
What was the theme and how did you explore it? 
The theme was 5G. We started the day with BT, talking about the nuts and bolts of 5G, and how it's going to supercharge our technology. 
BT shared how 5G means greater coverage and lower latency, so the network will spread up to a mile off the coastline. That will enable real-time communication and much closer tracking for rescue organisations like the RNLI. 
Theo Blackwell from the London Mayor's Office talked about how we futureproof a city like London in the context of 5G, by working in partnership, and Scott Petty from Vodafone shared some of their case studies. 
Dr Keith Grimes of Babylon Health talked about how AI is changing healthcare, and how it's not about the big, shiny technology, it's about incremental changes and practical uses. His GP surgery used to offer mobile phone charge points as a way to engage with people who may not otherwise interact with the healthcare system.
What are the goals of the Safari?
I want charities to be inspired by how other businesses are approaching similar challenges, and to come away with a new perspective. It's about meeting people who might have faced the same problems and can offer a different perspective.  
What were the outcomes of the first Safari?
There were some really interesting connections made. BT were really interested to hear from people about partnering together. It was clear that 5G will quickly change how we deliver services, and we talked about how fundraisers can prepare themselves for these changes now. 
The big learning was to think about your use cases. How can charities better understand the problems their beneficiaries face, then work in collaboration to create new solutions?
What makes these Safaris so valuable?
There's real value in taking a day out of BAU to be inspired, to reflect, to experience the future that our speakers bring to life. You get to explore it in a really safe way, and to imagine what if… At the Reunion you get an opportunity to decide what to do with it now. 

You also get to connect with peers, to hear new voices, and to access different businesses, people and places. Our Safaris are designed as conversations and nothing's off the table. We prepare our speakers for challenging questions!
Tell us about the latest Safari just this week…
This one was in person! We had about 35 people attending and an amazing MC for the day called Oli Barrett, who leads the Safari and interviews our speakers. 
The theme was the Future of Community. The challenges the speakers are presenting are all things charities face. How do you monetise a community? How do you tackle misinformation and trolling? How do you give agency to your supporters to grow and develop a community? What's the role of working in partnership with others in online spaces to be able to create safe communities? 
We spoke to Byline, an innovative news organisation, about building community. To the BBC about combatting misinformation, and to Depop, the global marketplace, about having community as a core value. We ended the day talking to WhatsApp and Facebook about online community. 
It's always a series of unexpected encounters. You don't know who you're going to meet at the venues, or who's going to be participating on the day. 
To join our third Safari on the Future of Storytelling and Engagement on 9 December, drop Daisy an email at daisy@goodinnovation.co.uk