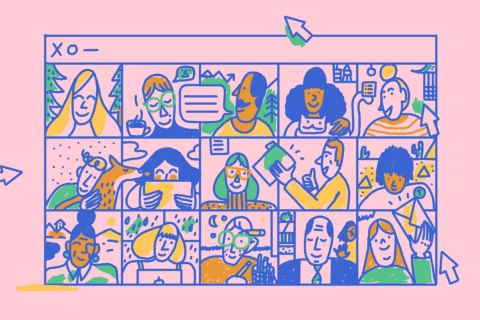 We've been working in strategic partnership with Amnesty International UK for nearly a year. That's meant a lot of zoom calls, workshops and a project team who have only ever met twice in person! 

One of the areas we, and particularly Abbie from the Strategic Projects Team and I, have been working on is culture change. We've been taking an experimental approach to embedding a number of behaviours that are critical to achieving Amnesty International UK's aim of becoming truly innovative. 

Join Abbie and I last Friday lunch time. It was sunny, and we reflected and chatted about our time working together on experimental culture change…
Heather  11:48 AM
Hiya Abbie! Thanks for saying yes to a chat about experimental culture with me..
Abbie Cooper  11:49 AM
Hello
11:49
Always up for talking about culture!
Heather  11:49 AM
Let's go back to the beginning.. we started working together last March (we even squeezed in two face to face meetings!) We've been working to establish and embed innovation at AIUK which has meant lots of things - identifying innovation start points, running innovation cycles, training but also culture.. 
11:49
Why did culture feel like an important area to explore for you and AIUK?
Abbie Cooper  11:50 AM
So this was a really ambitious brief - establishing and embedding innovation within fundraising at AIUK. Quite a big task!
11:51
Of course part of that is about establishing processes and frameworks etc but to truly embed innovation within the dept we had to look at our culture. As essentially this is us establishing a different way of doing things- a change piece- and you can't make meaningful, lasting change without tackling culture
Heather  11:52 AM
Yes - couldn't agree more
Abbie Cooper  11:53 AM
We could give staff the confidence to innovate through training, upskilling and access to frameworks but without a culture that allows for innovation to happen those things aren't going to be enough
Heather  11:55 AM
It's an easy topic to agree on, I think (almost) everyone would agree that culture is the biggest way to encourage, or block innovation from happening. Our co-founder Kevin loves the Peter Drucker quote 'culture eats strategy for breakfast'.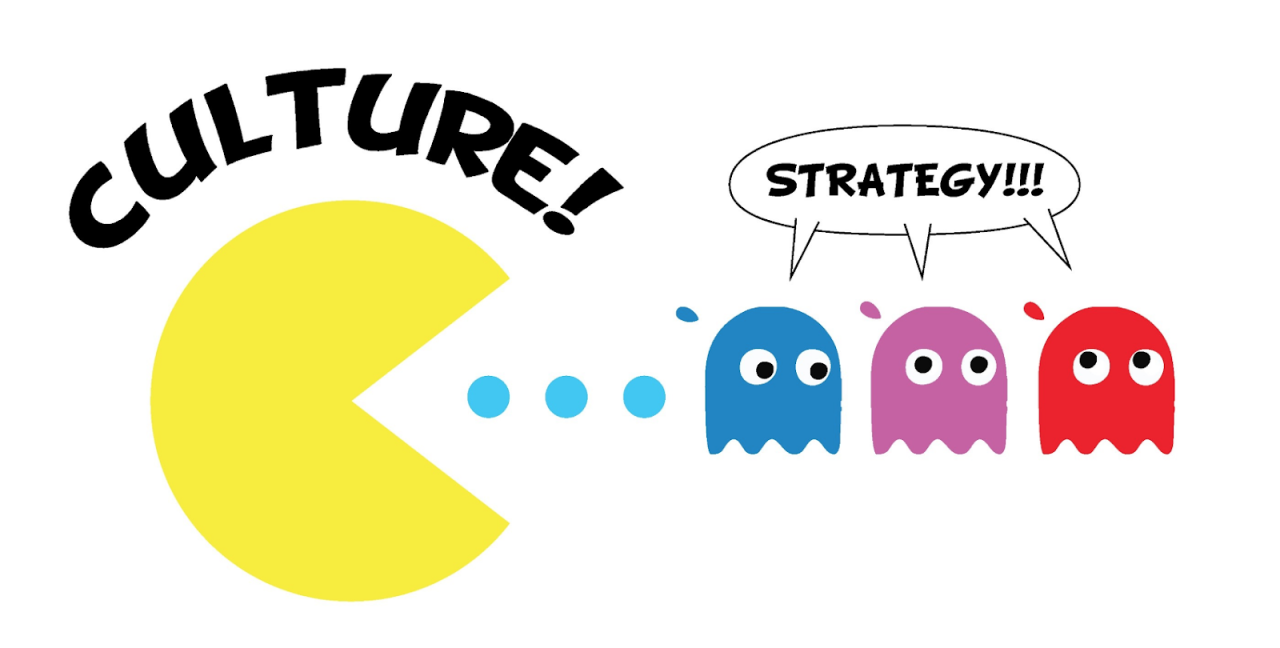 But it's harder to think about how to change it, it can get pretty complex and academic
Abbie Cooper  11:55 AM
Yeah I completely agree about culture feeling pretty complex and academic. 
11:56
I think it can also feel quite intangible and vague even- I get why it's important but how can you really change it? How can you measure it?
Heather  11:57 AM
Agree, there is so much thinking around organisational subcultures, is it behavioural or structural, or a bit of both? Do you remember that spaghetti slide? I think that summed it up quite nicely. 
11:58
It's complex but if we get paralysed by the complexity we'll never change it, so we can acknowledge that and take an active and experimental view, and just get going!
Abbie Cooper  12:00 PM
I think there's definitely a mixture of  behavioural and structural elements and I always refer back to the spaghetti slide when talking to people about culture!
Heather  12:00 PM
We also had an onion - lots of food metaphors in our culture work…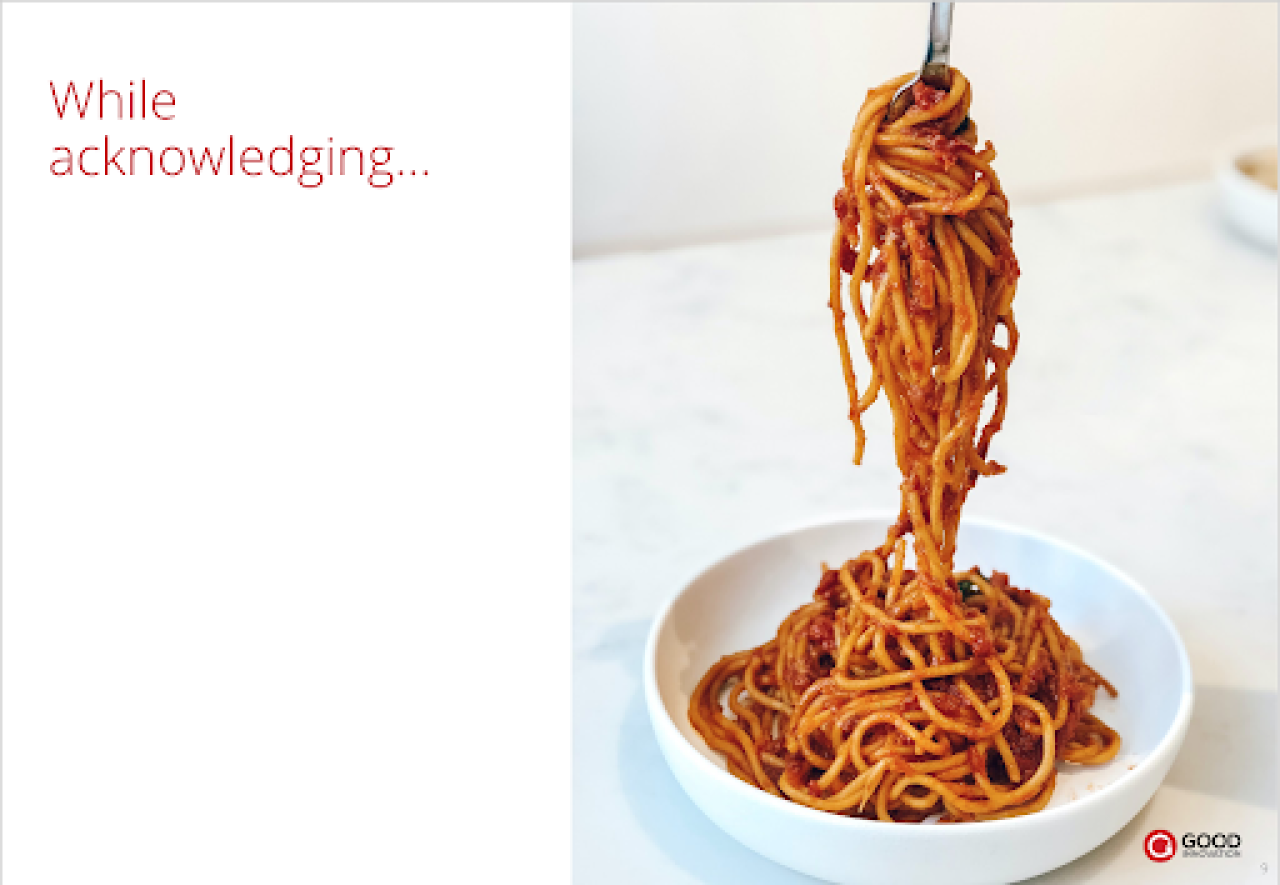 Abbie Cooper  11:58 AM
That's what's been really great about taking an experimental approach to culture - it's allowed us to narrow in on specific barriers or enablers (or the things that people see as helping or getting in the way) and build an understanding of where our focus needs to be. 
11:59
It's allowed us to get quickly to a place where we're testing tangible ways of changing it
Heather  12:00 PM
Couldn't agree more - taking an experimental approach allows you to be insight led, incremental but quick in creating change.  
Thinking back we began with insight gathering to help us find those barriers and enablers, and as you said found areas to focus on. Next we ran ideation workshops to co-create  ideas for Culture Experiments. I know it must feel like ages ago but how did you find those sessions? 
Abbie Cooper  12:01 PM
Yeah those sessions do feel a long time ago now!
Heather  12:01 PM
I think I even did one from our GI offices!  
Abbie Cooper  12:03 PM
Thinking back I'm really pleased we were able to bring staff on this journey with us and give them the opportunity to think about what the experiments could be. 
12:03
And if I remember rightly we left that session with lots of ideas with some key themes coming through- some of which I think ended up forming the basis of our prioritized experiments
Heather  12:03 PM
Yes! I remember being worried that the concept of a culture experiment, something small scale and measurable that we could attach KPIs to might be hard to grasp. But everyone got it really quickly and there were so many ideas!
12:04
I agree, it makes no sense to create those experiments without the input of the people who will be living and breathing them. And - it's fun! I remember getting some really positive feedback after it.
Abbie Cooper  12:04 PM
Yeah absolutely. It was really fun and the feedback was definitely all positive
Heather  12:06 PM
So, fast forward and we were working to attach hard KPIs to our culture experiments - our small scale interventions that we wanted to try, learn from and understand if they were beginning to nudge and embed the behaviours we were looking for. We did that in a working session, do you remember how you found that process?
Abbie Cooper  12:06 PM
Yes we did have some working sessions on crafting our ideas into experiments and attaching KPIs to them. To be honest at first I thought it would be quite challenging to do - and it was a little, but it was a really good challenge and personally something I found really enjoyable to work on. I think because we'd followed a clear thought process throughout- so we were thinking what is the potential impact of the experiment? How realistic is it for us to achieve? Having these things driving our thoughts really helped me understand exactly what it was we were trying to measure
Heather  12:13 PM
Agree it was really great to work on it as a team and challenge ourselves to make sure all we were doing was small scale and measurable
Abbie Cooper  12:13 PM
Exactly
Heather  12:13 PM
And then we starting experimenting - we kicked off our first two experiments that were looking to embed two distinct behaviours: curiosity and autonomy. How did you find people's reactions to being involved and being our Experimenters? I know we chatted a lot about how to make sure the experiments felt 'non additive' and not just another thing on people's to do list..
Abbie Cooper  12:15 PM
Ahh our cultural guinea pigs!
12:15
We've had such great responses from the teams involved in our cultural experiments
Heather  12:15 PM
They were WONDERFUL! So up for the challenge and excited about it
12:17
We've chatted a lot this year about envy creation as a principle of culture change, which might sound a bit funny but I really believe that creating little pockets of energy and excitement with our culture experiments makes other people want to get involved
Abbie Cooper  12:17 PM
I think on most of the experiments one of the KPIs was something like % of people completing the task and we were also so pleasantly surprised that people actually did do what we had asked them! And I think that's such a great reflection on the appetite from the department to get involved 
12:19
I totally agree with you on the envy thing and I remember when you first mentioned this to me - I had never thought of using envy as a principle for culture change before but it's so true...
12:19
and is something that I think we've started to play around with but I'm really keen to see how else we can harness it
Heather  12:19 PM
in the context of creating pockets of excitement and change we HAVE to talk storytelling, and specifically videos!
12:20
We challenged ourselves to stay as far away from slides as possible, we knew to make our experiments engaging and start creating energy around them we had to tell real, human stories
12:21
I've loved the videos our Experimenters have done for us - I think of David in the office talking curiosity and his reflections on looking out to the sector for inspiration or Amie chatting autonomy and creativity.. those stories stick with you!
Here's Becca from our project team talking autonomy...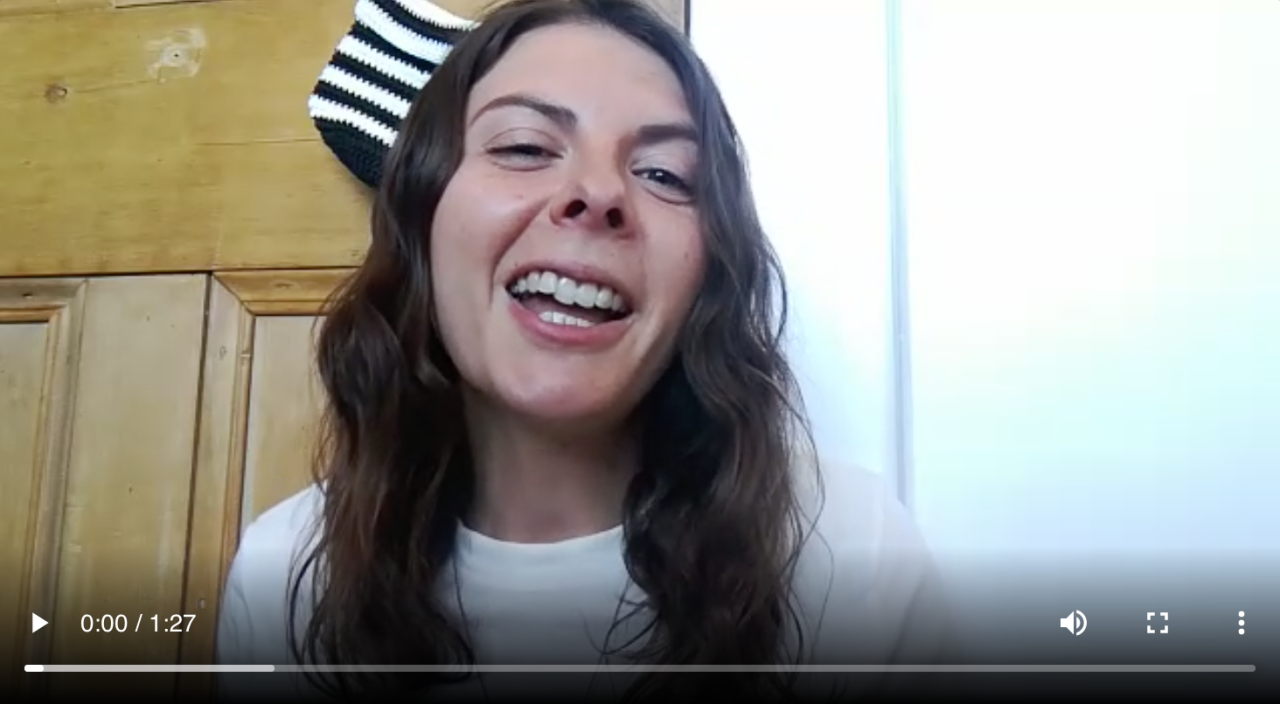 Abbie Cooper  12:22 PM
Yeah I'm so pleased we experimented with with communicating our progress to the department in a different way
12:23
We know people get some many emails- so how can we cut through and grab people's attention. I think there's always a little bit of nervousness when I'd ask people for a video but they were always so great and did the job perfectly
12:24
I've also had to practice what I preach and get involved as well!
Heather  12:24 PM
It always takes a little convincing though... shout out to our team of experimenters who we managed to convince to let us film them again yesterday, despite the complaints that they hadn't done their hair 
Abbie Cooper  12:25 PM
yep always with the convincing!
Heather  12:26 PM
We're still experimenting, and are looking to scale up some of the small scale changes we've made this year! Still lots to be done but to wrap up... what do you think or hope the impact on you, our culture guinea pigs / experimenters and the department of this work will be going forward?
Abbie Cooper  12:26 PM
We are absolutely still experimenting and looking to scale up some of the changes we've made this year. In terms of impact- defining and understanding the behaviours we're aiming to embed has been key, it really helps make culture feel tangible, they're what we can keep coming back to, keep pulse checking and keep testing.
12:31
There is real appetite to keep experimenting with behaviours and culture and I think there is a collective understanding that culture is the thing that underpins our success in establishing and embedding innovation, within fundraising, at AIUK- and that everyone has a role to play in living the culture we want to see
12:32
And for me personally- I am now a complete culture convert!
Heather  12:32 PM
Thanks so much Abbie - you've been a great partner to lead on this culture work with, really creative and up for being agile and iterative in our thinking! Here's to lots more experiments and culture chats in the future
Abbie Cooper  12:32 PM
Can't wait!