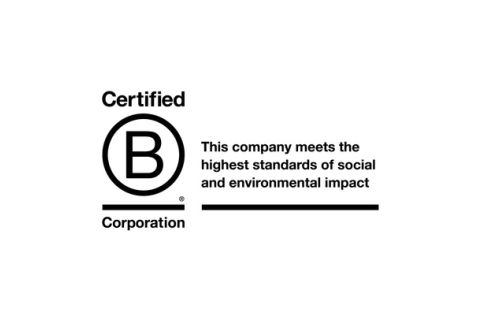 Since joining Good Innovation just over a year ago Yvonne Filler, marketing manager, has seen how important it is to the founders and the team that we have B Corp certification.  As part of B Corp month this March, she caught up with founders Andrew Bathgate and Kevin Waudby for a slack chat about how and why they got involved.
Yvonne 4:11 PM
When did you start thinking about becoming a BCorp?
Andrew 4:11 PM  
We were awarded our first certification about 4.5 years ago - we were one of the first 100 B Corps.   And we've been through the process twice now to maintain our certification.
Yvonne 4:12 PM
Why is it important to you that Good Innovation as a B Corp?
Kevin  4:13 PM
Because being a B Corp is a statement of intent about the sort of company we want to be and the impact we want to deliver.  
Being a successful company is about much more than simply being a profitable company (although that is important!).
It's about the impact we want to have on our team - treating them fairly, with respect, equipping them to give and share everything they're able to contribute.
It's also about the impact we want to have on our clients - doing our very best work for them, challenging and supporting them to deliver even more impact than they already do, enabling them to innovate how they deliver impact smarter and faster.
It's about the impact we want to have on the partners who supply us with services - to treat them fairly.
And it's about having all of that independently verified by an external party with the expertise to be able to judge us and benchmark how we're performing to become a better business.
Yvonne  4:19 PM
It sounds like it covers a real breadth of social and environmental performance both internally and externally so I assume it's a pretty detailed process?
@Andrew - How did you find the registration? 
Andrew  4:21 PM
The process was good.
It wasn't as hardcore as some people might think, but it helps that we were a smaller business. The most valuable bit is that it makes you think. The questions are wide ranging and I found it made me question things I'd never thought of.
I can see for large companies it would actually be quite a challenge - which is a good thing.
Yvonne  4:22 PM
Can you talk about some of the areas you might have missed otherwise?
Andrew  4:23 PM
It made me question loads of things - our HR policies, our volunteering, our impact tracking, our relationship with our suppliers.
Kevin  4.24pm
I think we still have work to do on our environmental impact.  I think we perhaps assume that our impact in this respect is negligible because we're still a relatively small organisation. But I'd like to spend more time and focus more of our effort on this. B Corp is a useful framework to help guide our effort on this.
Andrew  4:23 PM
It also made me glad that we were doing a lot right!
One of the outcomes of the process is that it's created a to do list to improve our score. That's one of the most valuable bits I've found - kind of an accidental by-product!
Yvonne   4:26 PM
As an employee of an organisation that is authentically focused on social impact I would have thought it would have been easy to get the required score so it's interesting that there are areas you'd not thought of......
Andrew  4:26 PM
It's much more than what you do, it's how you do it
Yvonne 4:26 PM
I think that's a really important point.
Yvonne   4:20 PM
B Corp as a certification has been in the press a lot of late - some say it's the Gold Standard, others that there is a dumbing  down of what it means?  What's your take?
 Kevin  4:24 PM
I think it becomes more challenging for B Corp to retain its credibility as it begins to accredit larger organisations with more complex businesses and multiple stakeholders. They become open to more criticism. But I think it's a good thing. I respect larger businesses for expressing, as we have, the intent to be better businesses. It won't be easy for them, far from it, but that makes it an even more impressive ambition. And it'll be a journey.  They're so complex that it'll take time to get there. But we should support their ambition.
Andrew  4:24 PM
I find the debate interesting too.
Andrew  4:25 PM
But I think the debate misses the point - getting certified is not easy and requires changes. It's not a gold standard and it's not dumbing down. It's achievable to encourage people to make changes.  It has to sit in the sweet spot. 
4:25 PM
If you had to be perfect no one would do it.
Yvonne   4:26 PM
I like that take on it.
Yvonne 4:27
Other than holding us to account - are there any other benefits you have noticed?
Andrew  4:29 PM
It sends a signal out to the team and to potential new recruits - which again is important.
It hasn't really led to any new business that I'm aware of - but we never signed up expecting to.  I think that is a wrong reason to take part.
Yvonne 4:30 PM
Very true.
Yvonne 4:31
If you think about suppliers - do you make a point of only working with other BCorps or does that make procurement/partnerships tricky until the movement is bigger?
Andrew  4:31 PM
Good question! Being a B Corp is in the mix, but it can't be the only criteria. We wouldn't work with a crap supplier just because they were a B Corp!
4:31 PM
But with two suppliers of equal quality - and this has happened - I'd always choose the B Corp.
Yvonne 4:32 PM
That's an important distinction and that's an interesting point for anyone thinking about starting the process as I'm guessing you won't be alone in that way of choosing suppliers. 
Yvonne 4:32
Any other thoughts on how you'd like to see the movement evolve?
Andrew  4:32 PM
I love the rumour of B Corp introducing action plans. For me that's the bit that's missing. You get a score and then (if you wanted to) you can not worry about making any changes / improvements for another three years.  B Corp will be moving towards asking to see a plan to improve scores and then holding people to account for implementing it - which is terrifying and also awesome! 
4:33
I have to hold my hand up and recognise myself in this - I had loads of plans after we certified for the second time but the day to day has got in the way.  An action plan and the need to constantly make changes would encourage me to prioritise our own impact as well as that of our clients.
Yvonne  4:33 PM
So currently there is no pressure to improve your score?
Andrew  4:34 PM
No, other than self imposed pressure!   
Yvonne 4:34 PM
Sounds like a great idea to ensure organisations keep working on their ESG.  
Andrew  4:35 PM
The value is that the standard evolves. To stay a B Corp you have to evolve with it. Recertification is where I think the magic lies.
4:35 PM
Once you're in you don't want to drop out. So you have to keep improving. Genius.
Yvonne 4:36 PM
For sure.  Any final message for anyone considering, or struggling to get going with registration?
Andrew  4:40 PM
Don't be daunted. Do it, but recognise why you're doing it. Do it as part of an ongoing journey to help you make better decisions about how to run your business. And do it with an open mind!
Yvonne  4:41 PM
Thank you @Andrew and @Kevin - lots to think about.