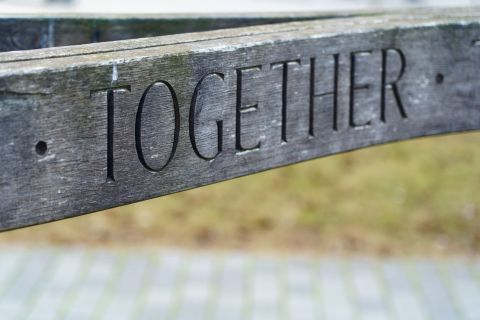 Insights from the pioneers of groundbreaking collaborations
Forget traditional corporate/charity partnerships.  Our latest event wasn't about 'charity of the year votes' or 'corporate fundraising initiatives'.  It was about organisations understanding how to be a fundamental part of something that changes lives, to understand how to come together to tackle social problems faster, smarter and with more impact.
Most organisations want to do more.  But no organisation has the combination of skills, assets, budget or time  to solve problems like the cost of living crisis, climate change or the mental health pandemic on their own.

It's hard to argue with the concept of collaboration, but it often sounds more fridge magnet than fresh insight.  But there's a reason why, everyone from Henry Ford to Darwin to Pharrell has shared their thoughts on the benefits. 
Why aren't more people doing it?  Why isn't working with others the first potential solution we explore? Because the reality of collaborating can be really hard. At GI we've run a number of large scale collaborations and have the war wounds to remind us of that. 
So we asked some pioneering collaborators tackling issues ranging from airline safety, living with Motor Neurone Disease, to encouraging young girls to be active about those war wounds but also the success stories. 
We also listened to a room full of corporates and charities wanting to have an impact. Here's what we learned.
 THINK CREATIVELY, NOT COMPETITIVELY ABOUT PARTNERS
"We just don't compete on safety.  And we've taken that idea and asked, where else do we not compete for our common good?" - Benn Godfrey - VP Procurement, Rolls Royce.
Impact offers a new frontier for collaborating with organisations who you wouldn't normally consider collaborating with - notably your competitors. 
And when it comes to collaborating for impact, things start to get exciting when you get multiple organisations bringing something unique to the table.  When you don't have to worry about commercial leakage as a result of a willingness to do social good - that's where real change happens.

 FIND YOUR CONDUCTOR
"We had a lead partner, Women in Sport, who were conducting the orchestra and making sure we could keep going, be agile when we needed to be, but actually deliver" - Wendy Hawk, Head of Engagement and Communications, Women in Sport.
We know from our own experience running the Good Lab that collaborations aren't easy, many of them fail to reach their potential. They're especially hard when you bring together different organisations with their own ambitions and objectives. Every good collaboration needs an organisation in the middle to constantly drive things forward, firefight, hold people to account, assess and pivot.  The reason most collaborations feel hard and often fail to reach their potential is this is forgotten and there's no-one conducting the orchestra. It's important to recognise the need for this, and for whoever plays that role to allow the extra time and space needed to ensure a collaboration reaches its true potential. 
 BE AMBITIOUS, GET PEOPLE ENTHUSED, CREATE A MOVEMENT
"Let's get people together, create a movement.  This is the star nebula, it's where the sparks fly"  Nick Goldup - Director of Care Improvement - MND Association
The MND Association had big ambitions - to work with the biggest technology companies in the world to re-define the life for people with MND.  And they're achieving their goal.  It starts with conversations to get people enthused.  Get those people together and create a movement of people who want to think about solving the problems.  Maintain momentum with regular summits where everyone is involved, answerable and  dedicated to making impact happen.  Sparks fly when you get the right people together who commit to instigating change.
 AGREE THE PROBLEM, SCOPE AND STRATEGY
"We've introduced the R2 factory - the result of having different people in the ecosystem, governments, universities, corporations - and focusing on a problem that matters.  It's a safe place to do hard things" Navid Quaraishi - Business Development - R2 Factory (Rolls Royce).
The problems that collaborations choose to work on need to have the beneficiaries at the centre.  Agreeing what matters to the beneficiaries will guide the scope and strategy.  For example, the tech companies agreed that the MND strategy needed to provide solutions that were financially accessible, gave the end user freedom of choice and were co-created with those end users.  
It's also key that the project sits within the strategy of the organisations involved.  Without leadership buy-in, participant commitment and relevance there will be frustrations from all stakeholders and limited progress.

 STAY FOCUSED ON THE BENEFICIARIES
"Having a a really, simple, core spine to the entire project was important.  Women in Sport had done the hard work with the insight on what the beneficiaries actually wanted.  That was the rudder that kept us on the straight and narrow." - Jamie Dickinson - Group Head of Social Value - Places For People. 

Keep the people you're trying to help central to the process of developing and delivering social impact ideas. It helps make sure what you create is needed and gets used. The Motor Neurone Disease Association continues to keep the lived experience of MND at the heart of their collaborations with the likes of Dell, Rolls Royce and Google to design new tech solutions which can change their lives. And Women in Sport, in collaboration with Places for People and Hey Girls, work directly with women and girls to find new ways to get them more active. 
 GRAB THE PUBLICITY

"It's like a halo effect.  The more you get it, the more success you have.  There's PR to be had and I"m happy to take that for the community that we've built"  Nick Goldup - MND Association
The press love a good news story.  And they love organisations working together to achieve it.  The power of PR can provide increased awareness  for the cause and a halo effect for all those involved.  Use this to continue the process of building long-term value and reputation for your brand.
These are just a few of the headline insights and takeaways.  We are offering a free 1 hour consultation on how you can make collaborations work for your organisation.

Book a slot with Ryan Bromley, Partner at Good Innovation here.